Family Dentistry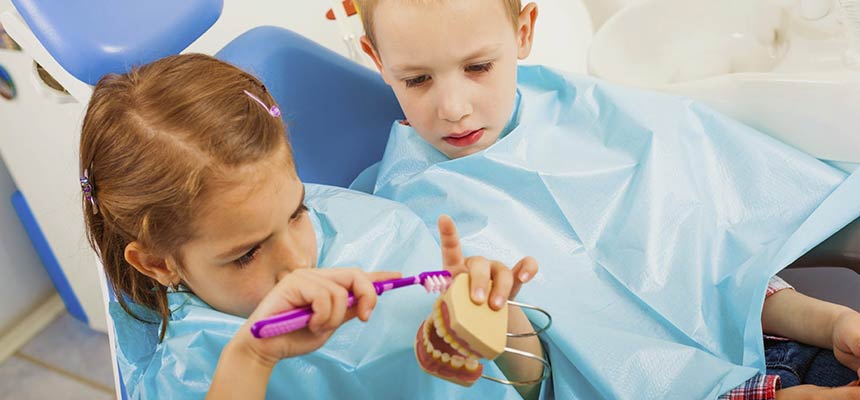 General Dentistry Services & Procedures
Dental Hygiene 
Our Registered Dental Hygienist will create individual care plans specific to each client's needs and budget.  We offer preventive and educational services to support and maintain oral health. At the end of your visit, we will give you helpful instructions on how to promote healing and avoid re-occurrence of the infection.
Stay in Control of Your Oral Health!
Tooth Restoration
If a tooth has a cavity, the decay must be removed and have the space filled with a restoration.  White or tooth coloured fillings (composite resin) can be used to restore your tooth or make aesthetic improvements to a tooth.
Root Canal Treatment (Endodontic Therapy)
This treatment may be required as a result of decay damaging the nerve of the tooth.  This procedure removes the damaged nerve and then it is filled and sealed. After a tooth receives this treatment it becomes brittle over time and will need a crown to restore the tooth's strength.
Extractions
Extractions are performed for a wide variety of reasons, but most commonly to remove teeth which have become impossible to restore through tooth decay, periodontal disease or dental trauma.
Mouth Guards 
A mouth guard is a protective device for your mouth that covers the teeth to prevent and reduce oral injuries during sports.
Night Guards
A night guard is a protective cover for your teeth if you're grinding and/or clenching.  This thin and transparent appliance is worn over the chewing surfaces of your teeth while you sleep to prevent the upper and lower teeth from contacting. 
Cosmetic Dentistry Services & Procedures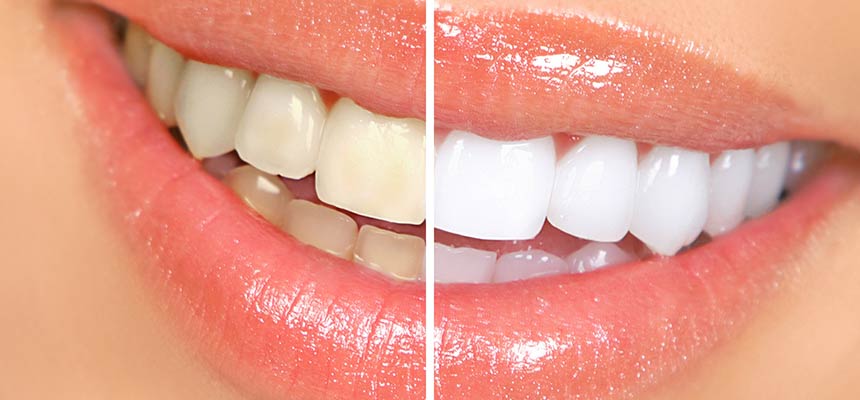 Porcelain Veneers
A veneer is a thin, custom made shell of tooth coloured material that is bonded directly to the front of a tooth. At Osborne Dental Office, our dentists use veneers to change the shape, colour, size and symmetry of the teeth to enhance your smile.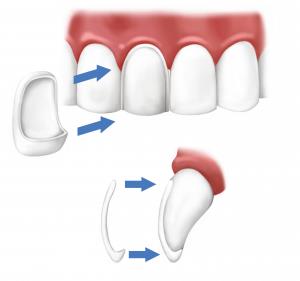 Crowns
A crown encircles your tooth to restore it back to its normal shape and size. A crown is needed when a tooth is generally broken down and dental fillings can't solve the issue. Other reasons for crowns include:
decayed teeth
fractured fillings
large fillings
tooth has underwent root canal therapy
Bridges
If you are missing teeth, a fixed bridge can be placed.  A bridge consists of  two crowns that go over two anchoring teeth (abutment teeth) and are attached to pontics (artificial teeth), filling the space created by one or more missing teeth. More reasons for a bridge include:
preventing remaining teeth from drifting
restore chewing and speaking ability
restoring your smile
Dental Implants
Dental implants are a great way to replace missing teeth.  A dental implant consists of an artificial root made of titanium metal, the implant abutment (supports the crown) and the implant crown.  The titanium screw is inserted into the jaw bone to replace the root of the tooth, which will maintain the health of the existing bone and limit the amount lost over time.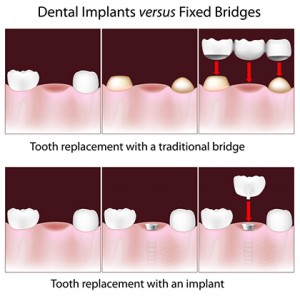 Teeth Whitening
Due to day to day occurrences such as drinking coffee, tea, and red wine may cause unappealing stains on your teeth. We offer take home whitening kits including custom clear trays and whitening gel to restore your bright smile.